Our ad-hoc consulting proposition
We are supporting you with integrated multi-skilled teams, to achieve durable transformations at all critical steps of your company lifecycle.
Our teams are exclusively made up of former operational staff, experienced profiles,
who speak your language because they have held your positions in their past professional experiences.
Our scope of intervention ranges from diagnosis to operational action plans. We ensure a follow-up through coaching and piloting to support you in the implementation.
You are experiencing major changes in each phase of your entreprise lifecycle.
At what stage of your business experience should you call us?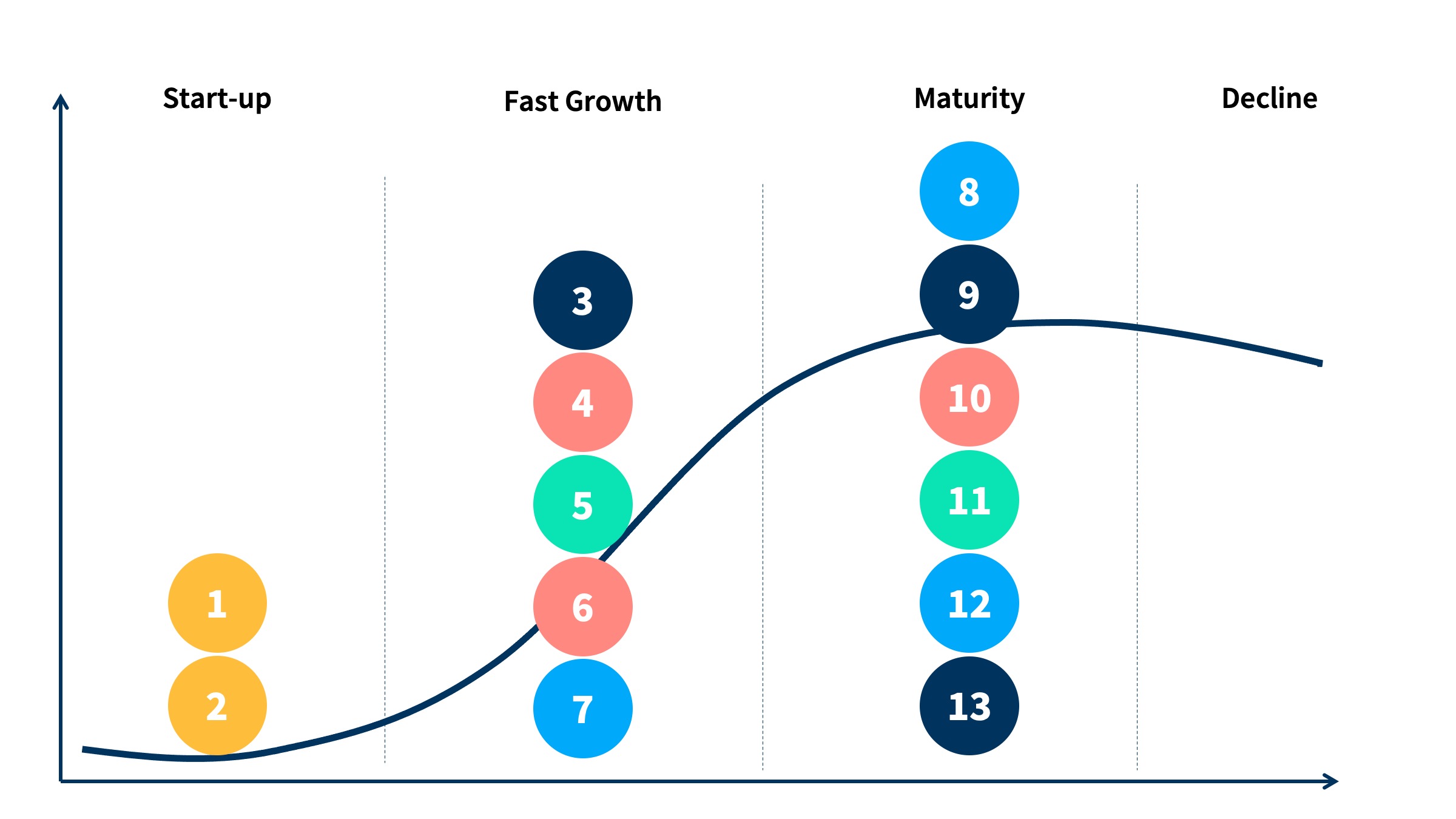 | | |
| --- | --- |
| 1 | Product innovation / building a MVP (*) and searching product-market fit |
| 2 | Go-to-market and business model confirmation / optimization |
(*) MVP / Minimum Viable Product
| | |
| --- | --- |
| 3 | Process, organization, IT systems structuring |
| 4 | Enlarging the go-to-market to new customer segments / markets / international |
| 5 | Strengthening management culture and management model |
| 6 | Consolidating the "raison d'être" and expressing it through the brand |
| 7 | External growth: due diligence, acquisitions and mergers / integrations |
| | |
| --- | --- |
| 8 | Reviewing strategic programs portfolio and consequences on finance and organization |
| 9 | Realigning and optimizing of the operational model (Customer Relations, IT, Finance, Purchasing, etc.) |
| 10 | Realigning products / processes / organizations with customer expectations |
| 11 | Realigning of skills and management model |
| 12 | Reinventing business models, search for growth drivers and organization for innovation |
| 13 | Transition to sustainable and responsible business models |
We operate as an integrated multi-skilled team, leveraging the recognized expertise of our various practices.

Issues
. Detect, explore and implement the company's growth drivers
. Imagine new value propositions, new products and services, and bring them to market
. Organizing the company for innovation
Who's involved
. Marketing managers
. Innovation managers
. CEO (SME)

Customer experience
& Customer Support
Issues
. Realigning the value proposition, organization and processes for a customer-centric company
. ropose multi-channel experience aligned with consumers' expectations
. Operate Customer Support at the right cost
. Get committed and efficient employees in the front lines
Who's involved
. Transformation managers
. Marketing managers
. Operations Managers
. Information Systems Managers
. CEO (SME)

Issues
. Adapt the company to digital: new consumer expectations, new forms of competition, new commercial channels and customer relations
. Leverage the digital tools and data to maximize the company's performance
Who's involved
. Transformation managers
. Marketing managers
. Operations Managers
. Information Systems Managers
. CEO (SME)

HR, management
& people factors
Issues
. Bring out ambitions, reinvent practices, federate, get people on board by removing individual and collective obstacles and build solutions
. Amplify the impact of the HR function to meet strategic ambitions for organizational performance, individual commitment and well-being at work
Who's involved
. Human Resources Managers
. Transformation managers
. Operational managers (SME)

Transformation of information systems
& associated departments
Issues
. Make the IT department and the IS a key contributor to the company's development
. Make an IT department agile
Who's involved
. CIO
. Head of Digital
. CEO (SME)

Issues
. Redefine your brand platform and clarify your purpose in a changing world
. Reinforce its image and visibility across all brand touch points
. Better integrate digital opportunities into your communication strategy, especially social media and influencer marketing
Who's involved
. Communication managers
. Digital managers
. CEO (SME)
Because we believe that consulting should benefit everyone
Many of you, often among the smallest companies, think that consulting is not for you. You don't have a clear idea of the concrete benefits of a consulting mission. You tell yourself that an accompaniment will be too long, will make you waste precious time or will be financially out of reach.
In order to allow as many of you as possible to carry out their transformations in complete serenity, we offer you, in addition to our personalized coaching, various expertise and coaching know-how, packaged in the form of turnkey products.
The added value of each of these products is clear; the deliverables are explained; so is the cost.
Some representative case studies of our accompaniments
Our case studiesRelated expertises Transformation phases adressed Let's set the stakesComing soon...
Majors
Mid-size companies
Start-ups/Scale-ups
Private industry
Para-public sector
Public sector (*)
(*) in partnership with the firm Passages Professionnels, specialist in the modernization and transformation of public action